Collection: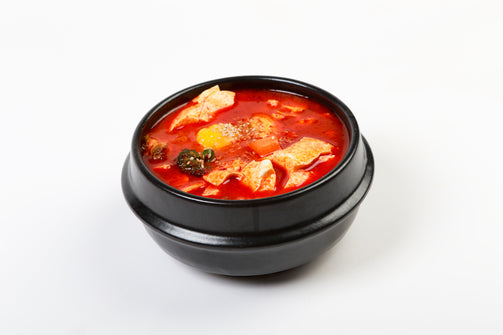 Collection:
Soon Dubu Jjigae, Soft Tofu Soup
Soon Dubu Jjigae, Soft Tofu Soup
Regular price

Sale price

$15.95
Spicy silken tofu soup with your choice of toppings
-vegetable/beef +5/pork +3/kimchi +3/seafood +5
Soon Dubu Jjigae is a soup made with soft tofu as its main ingredient. It is often eaten as a spicy soup, but also without the use of spicy ingredients/flavors for a mild taste.
It is popular item for children and the elderly due to its soft texture and taste.
The Joseon Dynasty Archives reveal records of Soon Dubu in its initial form. It is theorized by historians that the popularity of a tofu soup during the early period of Korean history led to the spread of the use of tofu in households.