Collection: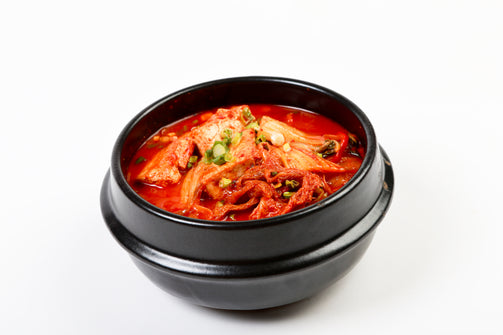 Collection:
Kimchi Jjigae, Kimchi Stew
Kimchi Jjigae, Kimchi Stew
Regular price

Sale price

$16.95
-vegetable/beef +5/pork +3
Kimchi Jjigae is a stew/soup with kimchi as its main ingredient.
Kimchi is cabbage pickled in brine then mixed and coated with red pepper flakes and paste, and is eaten as a spicy side dish to complement foods that are oily, greasy, and/or salty. One of the strengths of kimchi is its ability to be eaten as it is fermented, which allow it to be eaten over a long period of time.
The history of kimchi stew goes hand in hand with the history of kimchi. The idea of the stew came as a way to quickly fill the bellies of the poor and hungry by adding water to kimchi, and also as a way to deal with over-fermented kimchi, which some might find hard to eat with its sour taste. It eventually modernized to have other ingredients added to it, like meat, leeks, tofu and garlic