Collection: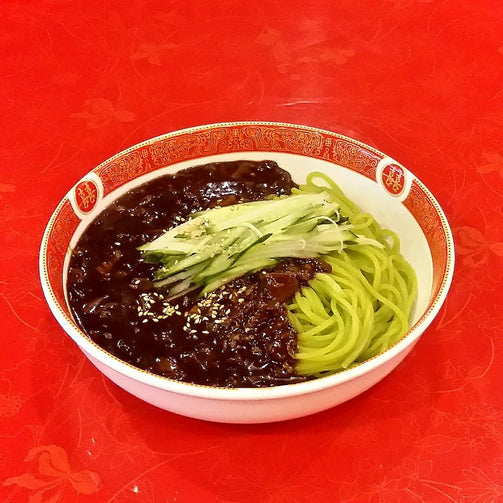 Collection:
Jjajangmyun, Jjajang Noodles
Jjajangmyun, Jjajang Noodles
Regular price

Sale price

$13.95
Stir-fried black bean paste with diced vegetables over soft noodles, add choice of toppings
-vegetable/beef +5/pork +3/seafood +5
Jjajangmyun, or Jajangmyun (without the extra j for a softer pronunciation), is a Korean-style Chinese noodle dish that is topped with a sauce that is made by mixing together onions, vegetables, pork, black bean paste and stir-fried with cooking oil, and this sauce would be topped onto the noodles.
Jjajangmyun is said to be a variant of the Chinese noodle dish zhajiangmian, which was a staple dish of the Shandong Province of China, and that it was changed to better fit the palate of Koreans. In the 1890s, workers from the Shandong Province would eat noodles mixed with just black bean paste, and this was to be the origin of jjajangmyun.